I'm delighted to be asked for an interview with Michele Mele of Bright Young Folk here's a transcript and you can see it on their website here.
After the rapturous response received both by her web series Folk from the Boat and her work with Wilde Roses, multi-instrumentalist and singer Anna Tam recently released her debut solo album Anchoress, a collection of songs related to isolation in its various forms plus a few self-penned instrumental compositions.
Her angelic voice and her sensitive playing on a number of instruments, including nyckelharpa, vielle, viola da gamba, hurdy-gurdy and cello, brightened the days of thousands of people around the world during the gloomy days of lockdown, whilst her recorded repertoire, usually centred on medieval and Renaissance music, widened to include some traditional material collected in the modern era.
She has been so kind as to answer a few questions for Bright Young Folk readers.

Who are the artists that had the greatest influence on your music?
So many artists from a very wide range of genres have been inspiration to me. The earliest would be my father, Roy Chilton. He is also a multi-instrumentalist working across genres, and has taught me so much about experimentation and thinking outside of boxes. I'm so excited that we recorded a track together (Elsie Marley) on Anchoress, bringing some jazz inspired banjo into the mix.
I've always felt a strong connection between place and art (I have synaesthesia between colours and pitch) and am particularly drawn to bleak landscapes such as moorlands and the sea. I think it's no accident that a lot of the artists that influence me such as Tallis, Sibelius, Britten, Mari Boine and Eivor come from similar landscapes.
There's a great tradition of singers that are a constant inspiration to me: Joan Baez, Nancy Kerr, Frankie Armstrong and Annie Lennox, amongst so many others, and I feel a particular connection to the works of John Fleagle and others like Dead Can Dance who are exploring early music and folk within their own style.
The birds, the wind and the sea are also artists that have inspired music throughout history and have a lot to teach me.

What can you tell us about your personal journey with the various instruments you play?
Music runs in my family and I guess it's no wonder when my father's main instrument is the double bass that I took up the cello as a child. I had cello and piano lessons at my local music trust, and I'm so grateful for that opportunity.
My journey into historical and traditional instruments began through playing Bach on the cello. I memorised all of his solo suites and, whilst performing them started to get curious about the baroque cello and how the music would have sounded at the time of its writing.
This became a slippery slope as I discovered the viola da gamba, nyckelharpa and – further down the rabbit hole – hurdy gurdy, vielle, rebec and frame drum. I'm always looking for different sound colours and textures to contrast with the voice; each of them offers something unique and a window into a different time and place.
And they also each have wonderful communities of crazy people who like to play them! I love the raw sound of voice and drum and have worked on a few ancient Celtic language poems for Wilde Roses with this combination.
On the nyckelharpa I've been lucky to have some wonderful teachers such as Torbjörn Näsbom and Magnus Holmström. The hurdy gurdy was a revelation because it is the densest sound I can produce solo, and I adore drones – there are so many sounds you can create on that instrument!
For my next journey I've just commissioned a replica of the Sutton Hoo lyre (from an Anglo Saxon ship burial) and am really looking forward to singing old English poetry with it!

What is your artistic process in arranging a folk song that dates back to many centuries ago?
Although we live such different lives to the singers of the past, our hopes, loves and basic needs are so constant. I begin by just connecting with the essence of a song; we have an amazing ability as humans to connect with stories.
In the past year, when I took a lockdown-induced acceleration of my solo work, I wanted to free myself a little from the more historical approach that I take with Wilde Roses. The songs are with my own accent (which is pretty mixed up anyway!) and, although they're traditional, do not hail from any particular time period.
With a new song, I'll first find a version of the lyrics and melody that feels really true to me (I spend lots of time online at the Vaughan Williams Memorial Library, FARNE archive etc). There'll be something, perhaps the mode or the rhythm that I find really interesting.
I'll sing/play the melody for a while, finding variations and ornaments and thinking which instrument, if any, can work best with it. It's rather like exploring a new area to find your favourite routes through it.
I tend to create my instrumental parts by trying things – I very much hear music in horizontal lines rather than vertical chords and the notes and textures that work depend so much on which instrument is playing them. When I was choosing material and writing for Anchoress I tried to find as many textures and sounds as I could solo.

How did your series Folk from the Boat start? And what can we expect from the coming episodes?
With a bang. Lockdown was announced and everything was cancelling and postponing. At that time I didn't know anyone with the virus but it was clear it was taking a huge toll on life in many ways. I just wanted to do something, in my own little way, to help cheer people up and keep us connected.
Initially I made an episode a day, I think I was a little manic, and now that's settled down to every week on a Thursday evening. It's a snapshot of life on the water with an adventure – whatever is happening on the boat that week – and a folk song or tune. I'm overwhelmed that it's growing and that there are people listening all over the world.
For the future episodes: I think we can expect a bit more movement! Now that lockdown is over I'm able to move further through the waterways; and I think we can also expect some painting as the boat needs a little love!

Your group Wilde Roses looks at traditional and historic songs from the British Isles from both a folk and an early music perspective. How do these approaches interact?
I am always curious about a folk song's historical and geographical journey and love to trace it back as far as I can. I read a lot of medieval texts, stories and sagas, which gives me a sense of the ideas and themes that were popular at different times, and many of these continue in fairy tales and folk song.
With Wilde Roses my approach to arranging is more research-led than my solo work but it's still very personal and heartfelt. Until we have a time travelling machine we can be informed by manuscripts, the sound and pitch of the instruments, works of art and research (our recorder/piper Emily has just finished her doctorate studying the ornamentation of musical clocks and toys, which is pretty cool).
It's unavoidable of course not to be influenced by our own times and taste in some way but we accept that. By using the instruments that were current at a certain moment when a song was written down or the story is set, singing in the dialect and accent of the time and following the style we aim to really transport our audiences.
Early music and folk music have a lot in common – the medieval modes (melody) are still current in the oral tradition; and medieval musicians were huge improvisers, making their own variations and ornaments just as folk musicians do – it's more the style than the approach that has changed.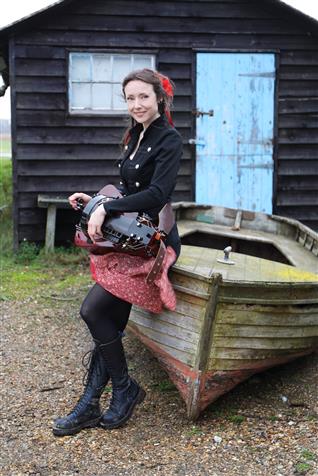 Is there a track, in your solo album or in your works with Wilde Roses, that best summarises your art?
Almost deliberately not… I'm an explorer and like to try different things with different songs. So far both Wilde Roses albums are very balanced. I wanted to include songs both from manuscript sources and the oral tradition, a mixture of languages (middle English, modern English, Celtic, Latin), and a wide variety of instruments. So in a way to get a sense of the project you need to try a few songs.
With my solo work I don't think I have enough perspective on my art to make that decision yet – but if your readers have ideas I would love to know!

What are your plans for the future?
Gigs! It's very exciting to have some live performances in the diary now, although the online world will definitely continue – particularly as many of my amazing supporters on Patreon are in other countries and we like to have a little livestream party each month. My YouTube series Folk from the Boat is my platform at the moment for exploring some new solo arrangements, and I'm planning on shooting a few videos over the summer (keep an eye out on the 5th of August!)
Wilde Roses are going into a writing phase now. On the folk side we're feeling inspired by some traditional ballads that have really deep roots; and on the early side we're exploring Anglo Saxon poetry (a nice outlet for my Sutton Hoo lyre!)
We don't have any music for these poems, so we'll be creating melodies from the words and using what we know about their music – it's quite an open book, which I'm really excited about!
All photos by Chris Brody except bottom by Janice Issitt
The Art of Handing Down Early Music – Bright Young Folk